Description
      VM2X CryptoCurrency Price(pro)
                               For Joomla3
Introduction
With the continuous rise of bitcoin prices, the digital currency has gradually become a hot topic in today's society, and everyone has begun to pay attention to digital currency.VM2X CryptoCurrrency Price Module helps you display the real-time market price of popular cryptocurrency price on your Joomla website, This is the simplest and most convenient product so far, you can config the update rate, scroll speed, coins, price Reserve Decimal at the backend of the module.
Features
Simple and Easy
Only display cryptocurrency logo and real-time market price (USD)  as moving scroll bar.

Config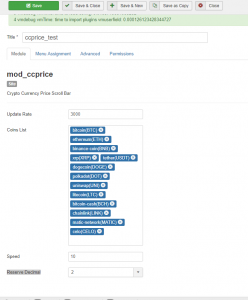 Update rate : update data rate(millisecond). advice: 3000 – 6000
Speed: scroll bar move speed, default = 10, advice : 10-15
Decimal: how many reserve decimal you want,1-7
Coins List: a select cryptocurrency that you want to display
Display anywhere you want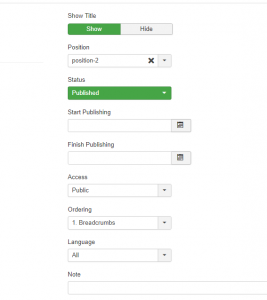 You can install the plugin at Joomla backend, and create a new module, choose a position that you want to display in the Joomla frontend.
My favorite place is Breadcrumbs!
The Professional Edition provides more indicator display, more display animated effect and color prompt of price change

Support
I  would like to give you five-star support and any kind of customization about this module or any other project about CryptoCurrency
Author: Kevin
Email : widcater@gmail.com
Skype: widcater