Description
Christmas and New Year is coming, Let your store with the snow effect,your customer will feel special festival feeling and have good spirit to purchase more and more ,Let's begin to have fun with Christmas Snow now!
Installation
The file – "chrissnow.zip" is the module file  that you will need to use in the following steps :
Go to the Administrator backend , Modules > Module Manager, Upload a module, click the button  "upload" and find out the file – chrissnow.zip, and finish the installation .

Usage
When you finish the installation , the default config for the module is enable, so you just need to check if the module "Christmas Snow" is listed in the "Module Manager" at backend.
If you can find out it there , and it's enable, That will work well, enjoy it and have fun.

Issues
If you can't find out the Snow Effect in the frontend after install correctly, you need to go to backend , CONFIGURE -> Advanced Parameters -> Performance, change option : Template compilation to "Force compilation" , and clear cache .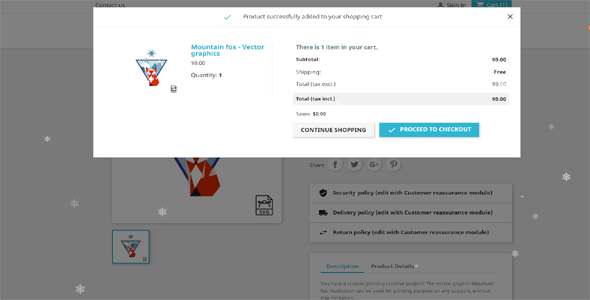 Disable
If you want to switch off the snow effect after Christmas, you can go to backend , find out the module, and disable it .  After you change the config every time, remember to clear cache and refresh homepage .