Description
Adyen Card Payment Plugin for Virtuemart3.X
Introduction

?
The Adyen Card Payment Plugin for Virtuemart3 is developed for supporting the latest joomla3.x and virtuemart3.x, the following is a feature of it:
1. Integrate the Adyen card payment with the API-only.
2. Support all kind of debit and credit cards as followings ? American Express, Bancontact,CartesBancaires,ChinaUnionPay,Dankort,Diners,Discover,Elo,Hipercard,JCB,MaestroMastercard,UATP,Visa,Visa Electron,V Pay,etc….
3. Integrate the payment method into the Virtuemart checkout process and store the order detail.
4. Easy installation and config in Virtuemart's backend.
5. Use the most popular Payment service via Adyen and get the lowest payment rate than other payment platforms.
Installation

?
1. Go to the Joomla backend, Install the plugin zip file.
2. Activate it.

Configuration

?
1. Go to VirtueMart console at the backend , Create a new payment method in the VM payment methods and choose the "VM Payment – Card payment via Adyen"

2. Go to the Adyen's website, log in your account, find out and store the following info :
A. Merchant account
B. Web Service User Name and Password: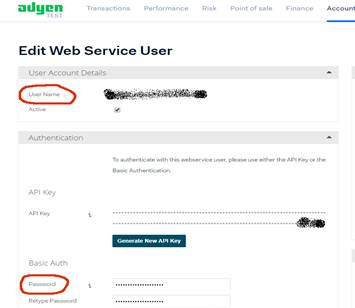 C. Client-Side Encryption
There will be divided into two-part(1,2) in Virtuemart config , you can store it as the following:

3. Go to Virtuemart backend, choose the payment methods – the Adyen card payment method you create before, click the tab – "Configuration", input the info you collected in step 2: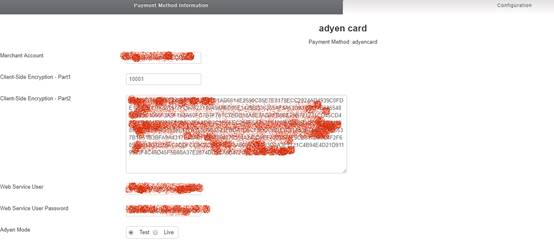 PS. With Client-Side Encryption string, you need to divide by "|" into VM payment config,part1 like "10001", and the other part is part2 that rest of the Client-Side Encryption string except "|". We also strongly advise that you choose the "Test" mode at first, after all, the thing is alright, Go to Live.
4. Enable the Adyen card payment methods, then you will see it in the checkout process in the Virtuemart front-end.
Usage

?
1. Go to Virtuemart front-end, and choose what you want, then add to cart.
2. On the VirtueMart cart page, you will see the form as follows?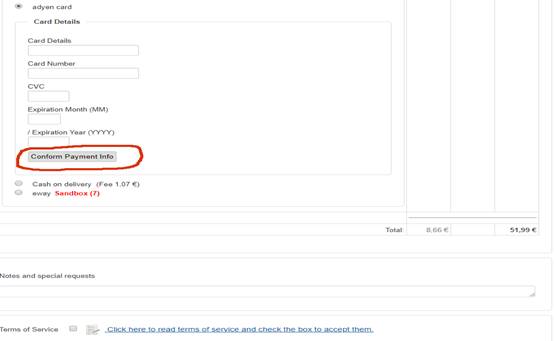 3. After you input the card info, you need to click the button: "Confirm Payment Info" at first, then finish the rest of the checkout step.
4. If the payment success, you will see the transactions in the Adyen backend as follows: